Made with Fresh & Pure oil.

Bananas Fried in 100% Pure Cold Pressed Coconut Oil

Healthy & Rich in Fibre.

100% Natural – No Preservatives Added, No Added Colours.

Manufactured, Packed in a Zip Lock Pouch.

The Banana Chips are Perfectly Sliced Using Machine which Makes Sure the Taste & Thickness is Consistent.
The fresh and healthy way of snacking is here for you to savour without risking your diet. Consume all the nutrition of Fresh bananas. but in a tasty version of it. Flavours of Calicut Madhya Pradesh Banana Chips are no less than edible gold coins that are tossed in fresh coconut oil. Famous for their authentic origin and organic flavour, Fresh banana Chips are the perfect tea companion.
Fried in Pure Coconut Oil
The fresh and healthy way of snacking is here for you to savour without risking your diet. Consume all the nutrition of Fresh bananas Chips are the perfect tea companion.
1 Kg Banana Chips Price Online
| Pack Type | Min Price | Max Price |
| --- | --- | --- |
| Loose | Rs 85/Kg | Rs 200/Kg |
| Packet | Rs 85/Kg | Rs 400/Kg |
| Plastic Bag | Rs 85/Kg | Rs 220/Kg |
Zero Preservatives:
Enjoy a snack that is free from any added preservatives. since the natural characteristic of coconut oil is shelf-able itself. Shelf Life of banana chips is 3 Month.
A Healthy Snack
Flavours of Calicut Kerala Banana Chips are a perfect substitute for oily and unhealthy snacks. The light-spiced and naturally flavoured chips are healthy and tasty. We made chips in different flavours and shape.
Good For Tea-time Cravings
Calm the tea-time cravings with a healthy snack that comes with nutritious values and great taste of banana chips. These perfectly sliced crispy bananas are a daily dose of fibre and vitamins. we make Chips in Good Condition.
100% Vegetarian Chips
No animal fat or additional preservatives, Flavours of Calicut Kerala Banana Chips Comes in 5 different flavours. The product is made with just four ingredients which are healthy and edible for all.
5 Different Flavour
Masala, Mint, Salt, Tomato and Plain Banana Chips.Chips Are Made With Pure oil Fresh Banana Directly Come From Farms.
Buy Banana Chips Online.
A Tasty Dose of Fibre
Fresh Bananas are rich in fibre and potassium too. Reap the benefits of relishing organically cultivated fruit in the form of a tasty snack.
No Trans Fat & Cholesterol
The product is cooked in coconut oil which allows it to unite no additional cholesterol and trans fat to the Chips.
Banana Chips Recipe | Homemade Kerala Banana Wafers | Kele Ke Chips
banana chips recipe | homemade kerala banana wafers | kele ke chips with detailed photo and video recipe. an interesting deep-fried snack recipe made with green raw banana or kachha khela. it is a popular snack in south india and is typically made as munching evening snack or as compliment savoury snack with desserts. it is very easy to make as it does only require raw banana, oil to deep fry and salt to taste.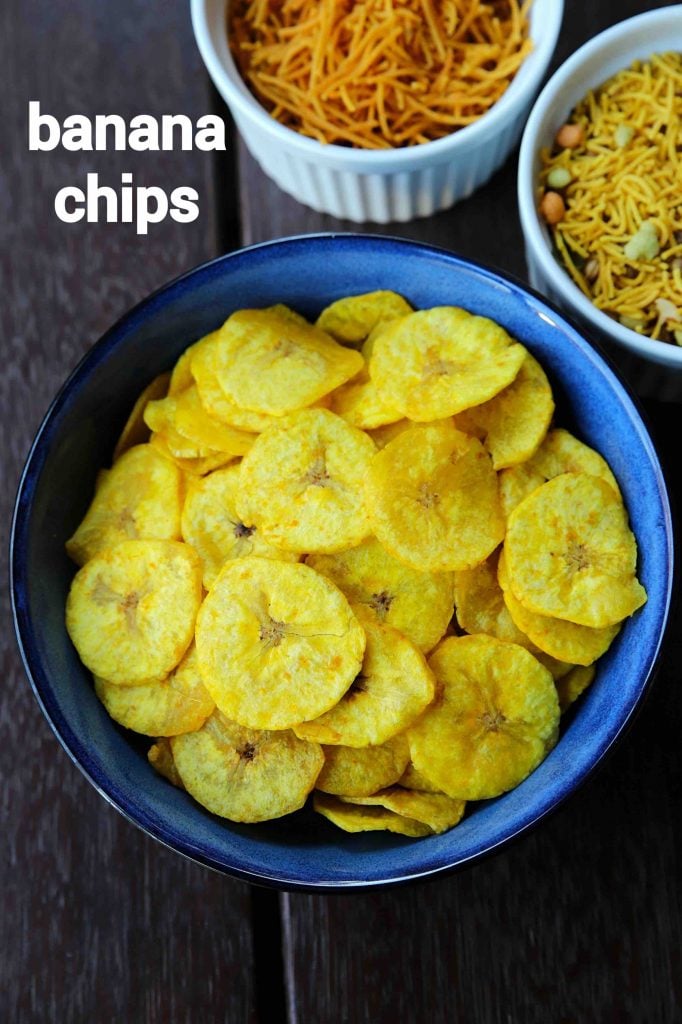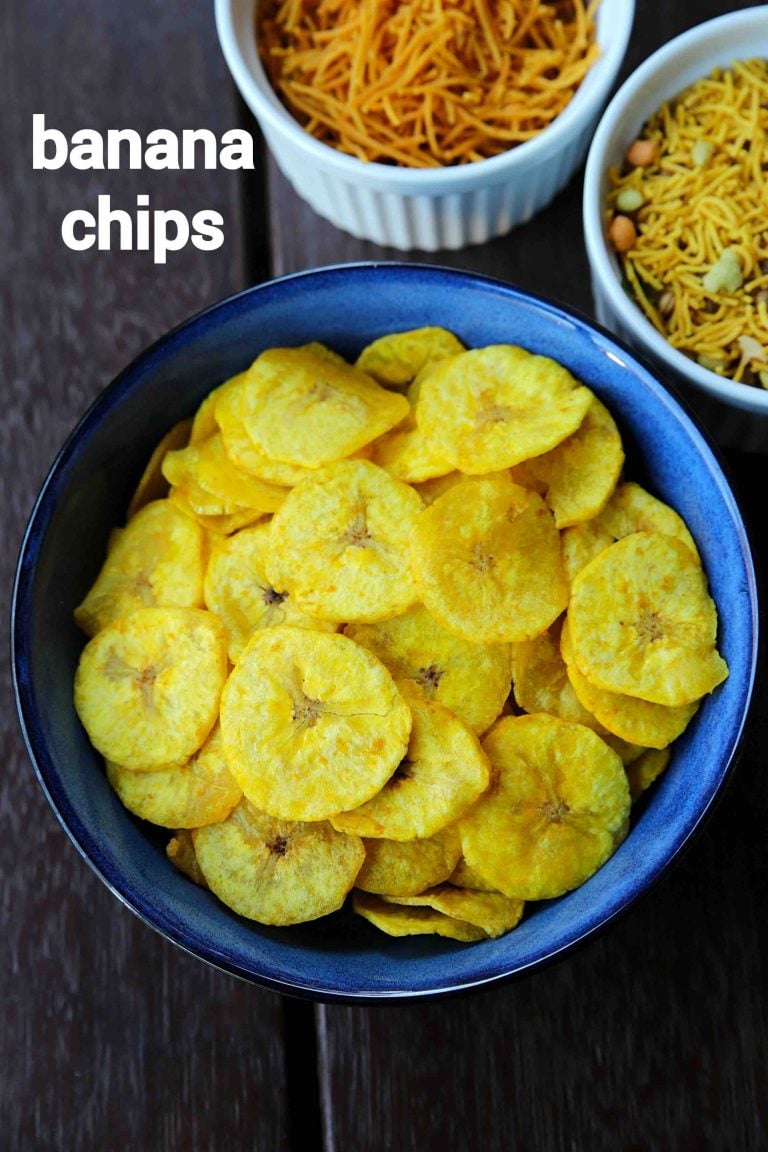 banana chips recipe | homemade kerala banana wafers | kele ke chips with step by step photo and video recipe. chips have become one of the popular snacks across india and consumed for various occasions. the most popular variant is the potato-based chips which even comes with different flavour and shapes. having said that, the traditional banana chips from south india has its own place in its popularity and also the taste and flavour.
while i always keep a check on my deep-fried snack consumption and i try to avoid as much as possible. having said that i go crazy when it comes to deep-fried chips. i do not have any preferences as such and i like almost all the chips variant. be it potato, bitter guard, jack fruit, banana, bhindi or even sweet potato. yet i make the banana chips quite frequently because of 2 main reasons. firstly, the ingredients are very minimal and can be made in a quick session. the other main reason is the crisp level you attain after deep frying as compared to other vegetables is outstanding. for instance for potato chips, you need to be specific with potatoes to have the crisp level. in other words, with less effort, you can achieve the chips desired crisp level with this recipe of banana chips.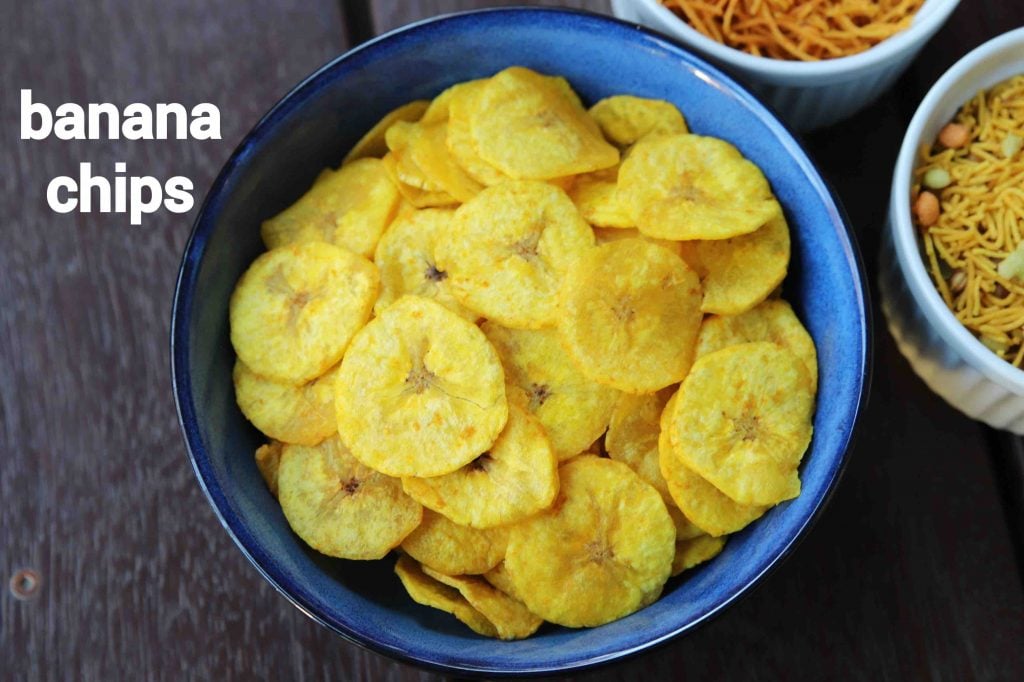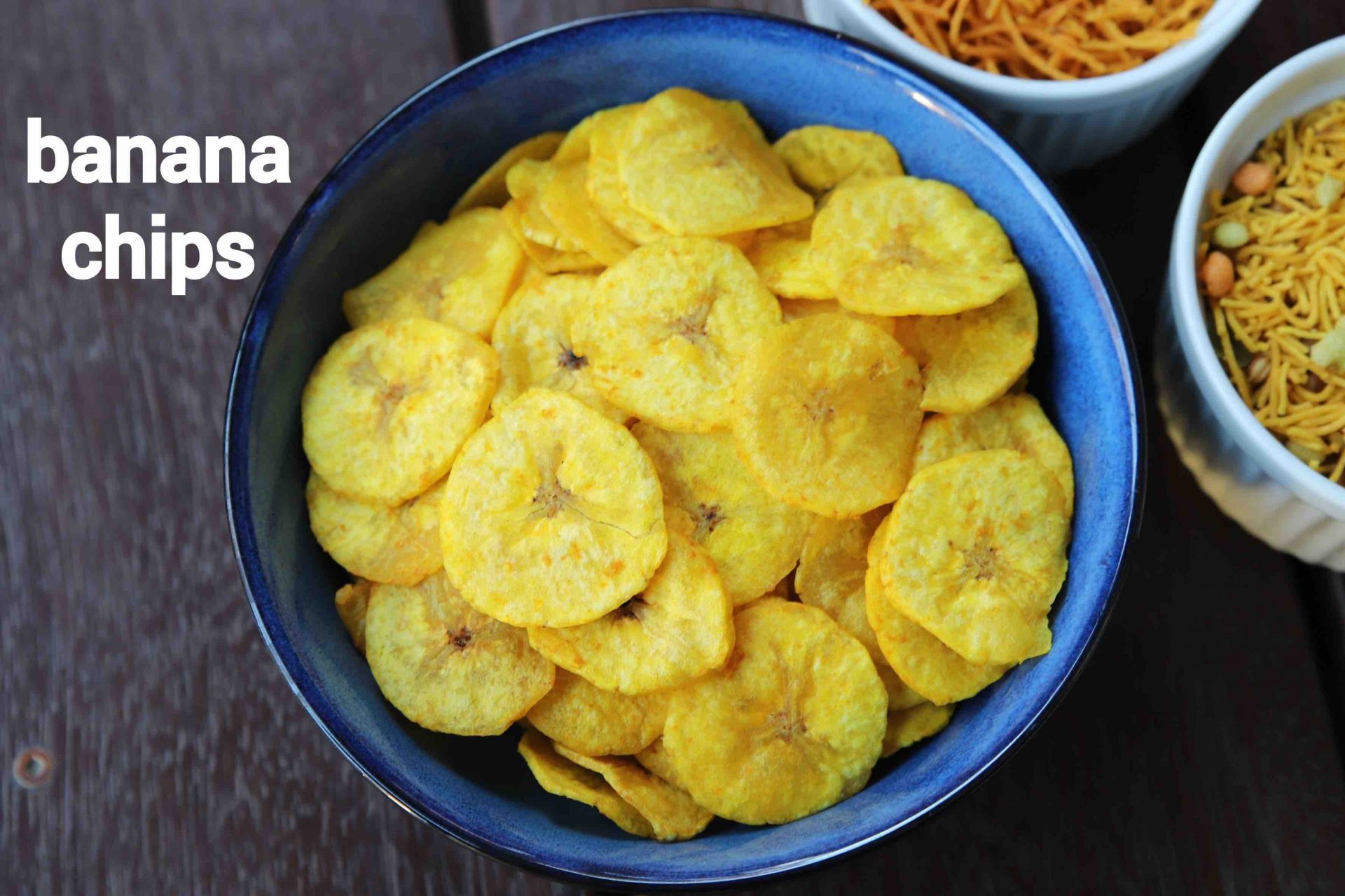 anyway some tips, suggestions, variations for a perfect and a crisp banana chips recipe. firstly, i have used raw and tender green banana for this recipe, for the best result. having said that you can also use slightly ripe or even ripe banana for a sweet and savory banana wafers. secondly, adding turmeric to water and rinsing banana slices, will help to get bright yellow colour to chips. lastly, store these in an airtight container for longer shelf life. you may also choose zip lock back and pack it in small bags.
Banana chips (sometimes called banana crisps), with origins in Kerala, India and Indonesia are dried, generally crispy slices of bananas (fruits of herbaceous plants of the genus Musa of the soft, sweet "dessert banana" variety). They can be covered with sugar or honey and have a sweet taste, or are more commonly fried in oil and spices and have a salty or spicy taste.[1] Banana chips are similar to chifle, usually made from firmer, starchier fruit varieties of the genus Musa commercially called plantains or "cooking bananas".
Fried banana chips are usually produced from under-ripe banana slices deep-fried in sunflower oil or coconut oil. These chips are dry (like potato chips), contain about 4% water (table), and can be salted, spiced, sugar coated or jaggery coated. Sometimes banana flavoring is added. If ripe bananas are used, they come out oily. They are used for desserts, not for dry chips.
Some varieties of banana chips can be produced using only food dehydration. Banana slices that are only dehydrated are not dark yellow and crunchy, but rather are brown, leathery and chewy. They are very sweet and have an intense banana flavor. These are ideally made from bananas that are fully ripe. Another kind is made by baking in an oven, although this process may not result in the same intense banana flavor.
Nutrition
[
edit
]
Dried banana chips are 4% water, 58% carbohydrates, 34% fat, and 2% protein. In a 100 gram reference amount, dried banana chips supply 520 calories and are a rich source (20% or more the Daily Value, DV) of magnesium (21% DV) and vitamin B6 (20% DV), with moderate amounts of iron, copper, and potassium (10% to 11% DV) (table). Other micronutrients are in negligible amounts of the Daily Value (see nutrition table).
Uses and variations
[
edit
]
Fried plantain chips, known as nenthra-kaaya oopperi or vazhaykka upperi or upperi in Kerala, are fried in coconut oil.[2] Both ripe and unripe plantains are used for this type of chip preparation. The chips may be coated with masala or jaggery to form spicy and sweet variations. Plain banana and plantain chips are called pachkkaya varuthathu and kaya upperi, respectively; sweet jaggery-banana chips are called sharkara upperi or sharkkara varatty. Sharkara varatty is more expensive than upperi. It is an integral part of the traditional Kerala meal called sadya served during weddings and festivals, such as Onam.
Indonesia
[
edit
]
Banana is a native plant of Maritime Southeast Asia and the people of the archipelago has developed many uses of it for ages, including as a snack. In Indonesia, banana chip is called kripik pisang, and is considered as a variant of crispy kripik (traditional chip or crisp). Kripik pisang is a popular crispy snack and can be commonly found in Indonesia, although it seems to be more prevalent in Java and Sumatra.
Usually unripe green bananas are thinly sliced, soaked in lime and salt water solution, and being deep fried as chips.[3] Unripe banana is well suited for deep frying due to its low content of water and sugar, while having high starch content. Pisang goreng is another fried banana snack, although it is not thinly sliced and serves as a sweet hot snack.
Americas
[
edit
]
The chips are often part of muesli and nut mixes. Other chips, such as patacones, are salty. Similar chips called chifle are made from plantains, the family of fruit that bananas come from. In tropical American cultures, all bananas are considered plantains, but not all plantains are bananas. These deep-fried plantain chips are also quite popular in the southeastern part of Mexico, especially in the state of Tabasco.
😃Thanks to Our Customers😃
What Our Customer Say:
---
Rahul(India): Why its tasty then kerala Chips, !Thanks!.
---
Sapna (India): Great Thanks. I am buy First Time. Tasty Mint thanks very much Make Shipping Fast.
---
Alex (UK): Thanks for Delivery in USA. Best Indian Chips.
We Ship Banana Chips in: India, UAE, USA, Russia, AU, PK, Na
banana chips online delivery
Yes, we deliver banana chips online in India. We are delivering chips from 2020 and from till date we sold 3000 banana chips packets online. Chips Delivery takes around 7 to 10 days. we deliver at your doorstep.